History MAC Lierop
MAC Lierop celebrates 40-year anniversary in 2012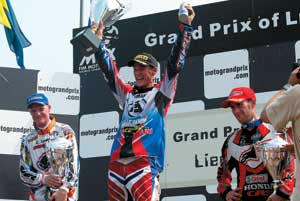 In the last 40 years MAC Lierop has organized, with the help of hundreds of volunteers, many matches.

It all started in the 80's with the match of the Dutch Championship and later on with the first Sidecars Grand Prix in 1994. The first solo Grand Prix (500 cc)took place in 1996.
A year later MAC Lierop organized the final match for the World Championship in the 125 cc class.
From the beginning MAC Lierop profiled itself as a professional organization. The participants, the audients and the sponsors felt as if they were at home on our circuit 'De Herselse Bossen'.
Every year we invested in material and knowledge so we could lift the world championship in Lierop to a higher level.

As a result we became the organizer of the first Triple Grand Prix in 2001.
The commitment of the organization and the volunteers turned this into a success and MAC Lierop was rewarded as Best Organization of that year!
Again in 2003 we organized a Triple Grand Prix.

It was a lot of work to get the Motocross of Nations 2004 to Lierop. Everyone wants to organize it, but only a few are able to do so. Thanks to the 100 year anniversary of the "Royal Dutch Association of Motorcyclists" (KNMV) it was possible to get the Motocross of Nations to Lierop.

And believe it or not: again MAC Lierop succeeded and was chosen as best organization of the world!
All these successes were good enough to get the Grand Prix of Netherlands 2005 where it belongs: to circuit 'De Herselse Bossen' in Lierop!
You are all most welcome!!

A list of Matches from 1990

1990 Triple Dutch Championship Solo

1991 Finale Dutch Championship Solo

1992 Dutch Championship Sidecar

1993 Finale Dutch Championship Solo

1994 Grand Prix Sidecar

1995 Finale Dutch Championship Solo

1996 Grand Prix 500cc

1997 Grand Prix 125cc

1998 Grand Prix Sidecar

1999 Grand Prix 500cc

2000 Grand Prix Sidecar

2001 Triple Grand Prix

2002 European Championship 125cc

2003 Triple Grand Prix

2004 MOTOCROSS OF NATIONS

2005 GRAND PRIX OF THE NETHERLANDS

2006 GRAND PRIX OF THE NETHERLANDS

2007 GRAND PRIX OF THE NETHERLANDS

2008 GRAND PRIX OF THE BENELUX

2009 GRAND PRIX OF THE NETHERLANDS

2010 GRAND PRIX OF THE BENELUX
2012 GRAND PRIX OF THE BENELUX